Cover Photo
The Outdoor Writers Association of America held a photo competition for the cover of their membership directory.  I submitted this photo.  As fortune would have it, this image was selected to adorn the cover of their 2012-13 directory.  Quite an honour!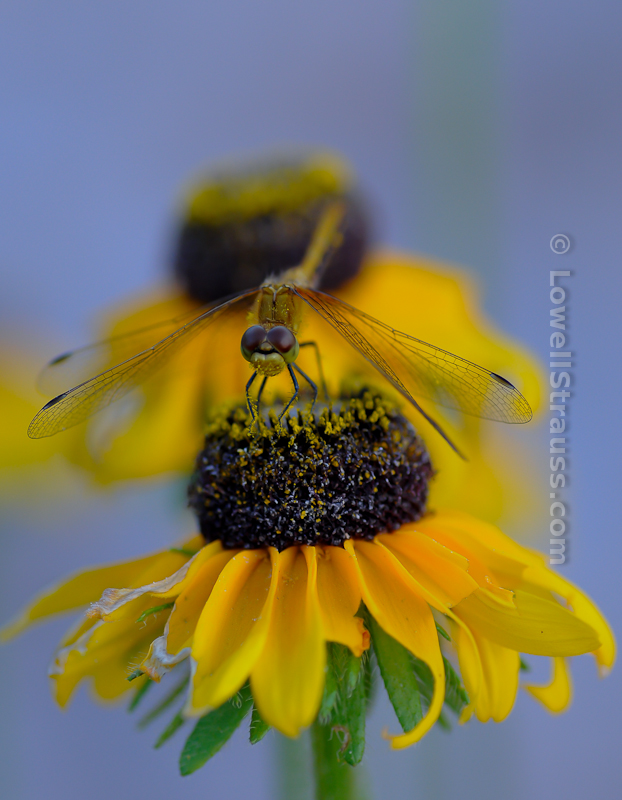 Macro Photography
I really enjoy macro photography, especially of our natural world.  Close-up images allow us to peer into a world that we seldom see or pay any attention to.  In this image we get to stare into the eyes of a deadly predator.  As humans, they are our friends, but if you are  a mosquito you're on the menu.
I find the most difficult part of macro photography is controlling depth of field.  In order to get properly exposed images I usually shoot with a large aperture setting, but by doing this there is a very narrow depth of field (sometimes only millimeters wide).  The key is keeping the important parts, such as the eyes, tack sharp.
To capture fast moving creatures such as butterflies and even dragonflies you need to approach slowly and cautiously.  Be aware of your shadow and if you have the luxury of shooting while you approach you are very likely to get some dandy images of your own.
Gear
Photo captured by Nikon D300 – Tamron SP 90mm macro*
*This old Tamron lens is still going strong and giving me great images.  Even though it is a bit slow auto focusing I will I have no desire to upgrade. It also make a decent portrait lens.