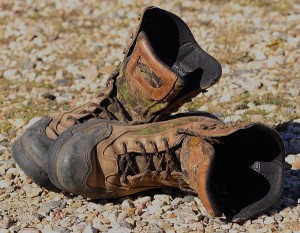 Well, I'm happily home again after spending 8 days hunting elk in the mountains.  My partner and I packed our gear and supplies on our backs in to the base camp.   My feet fared better than last year!  Still, the distance and weight led to some foot blisters that took away from my enjoyment of the hunt.  Since I now have hard-won knowledge of blisters, here are a few pointers that may help you fully enjoy your next outdoor adventure.
1) Boot fit is critical.  When purchasing boots, seek the advice of a knowledgeable salesperson to ensure proper boot type and fit.  Tell them how you will be using your boots and in what type of terrain.  No point getting a low-cut mountaineering boot if you plan to ford creeks.  No point getting a heavy-soled boot designed for mountaineering if you are mainly hiking trails.  When you go shopping, remember to take or wear the socks you plan to use with your boots.
2) Test boots indoors.  Okay, so you purchased a pair of boots that feel great in the store.   Take them home and wear them around the house.  For days.  Most stores will happily exchange boots if they haven't been dirtied outside.  There is no better way to find hotspots than this initial test period.  If the boots are leather they will conform to your foot somewhat – but this is the time to decide whether a particular pair of boots is right for you.

3) Break in your boots.  Make sure your boots are broken in, well in advance of a trip on which you plan to use them.  There is no faster way of getting blisters than wearing boots your feet are not used to.
4) Keep your feet dry.  If your feet are wet – even damp – they are much more prone to blistering than if they are dry.  Using foot powder and polypropylene socks as a wicking layer under a wool or similar over-sock can help keep feet dry from the inside out.  Waterproofing boots, or using boots with a Gortex ® liner, prevents moisture from seeping in from the outside.
5) Toughen your feet.  Training for backpacking should include carrying a loaded pack while wearing your boots.  Work up to a reasonable weight and distance gradually and in no time your feet will be up for the challenge.
In the event that you do feel a hot spot while hiking, tend to it immediately.  Use moleskin on friction points. Hopefully this measure will prevent a small red spot from turning into a blister.  'Air' your feet out regularly and reapply foot powder before proceeding.   If you do get a blister make sure to treat it appropriately to prevent infection – wash it carefully and apply antibacterial ointment and adhesive bandages.   These small measures can help you to complete your adventure on the same high note that you started.