I am pleased to announce I am a now an affiliate member of Brownells

,

Sinclair International

and Brownells Law Enforcement Division at

PoliceStore.com

.  I have dealt with both Brownells and Sinclair for several years as a supplier for my shooting, handloading, and gunsmithing interests. Brownells – the parent company has three divisions: Brownells carries firearms accessories and gunsmithing tools; Sinclair International sells products for the precision shooter and; Brownells Law Enforcement Division at

PoliceStore.com

 supplies law enforcement equipment.  Through this post I will refer to these three divisions collectively as Brownells.  All of their products are available on one website which simplifies purchasing and shipping from any of the stores – three stores one checkout.
&nbsp&nbsp&nbsp&nbsp&nbsp&nbsp
Why did I decide to become an affiliate?
Here are my reasons:
1. Brownells Provides 100% Customer Satisfaction Guarantee
Make a purchase from Brownells – If you aren't satisfied, you can return it:
"If you aren't completely, 100% satisfied with any purchase you receive from Brownells, for any reason, at any time, return it for a full refund or exchange. No hassle, no problem. And, we won't bog you down in endless paperwork. Your complete satisfaction with each and every product we sell is what's most important to us."
…and they mean it! I have nothing but good things to say about the customer service at Brownells and Sinclair International. Defective products are replaced without question. Any errors are dealt with in a timely fashion. Yes, Brownells pricing may be a bit higher than some of the other retailers.  But when you receive something defective (happened only once in my experience) or damaged, their no hassle – no PITA (Pain In The Ass) factor is worth every cent.  It is nice to deal with Brownells and not have to chase down warranty issues with individual companies. For example I purchased the Magna-Tip Professional Super Set.  When I received it the Ruger Double Action Ejector Bit had a manufacturer defect; one of the ears was bent over.  I called the customer service number and indicated what was wrong.  No questions – they simply sent me a new replacement bit.  An aside – I thought heck, I'll try to straighten the bent ear, I have nothing to lose- upon placing it in a vise and trying to bend it, it didn't budge until it snapped.  From this simple test I could see that this was one incredibly tough tool!  And with the entire set being guaranteed for life, I don't have to worry – or buy another gunsmithing screwdriver.  The nice part about this set is there is a bit for every imaginable screw head found on a firearm.  If you match the bit to the screw – no more damaged screws!! But I digress – that will be a review for another time.
2. Technical Help
At Brownells, there are numerous ways in which to get technical help. Brownells has "GunTech", Sinclair International has "The Reloading Press", and PoliceStore.com has "Training Group"– a collection of how-to videos, articles, and news and more. If you don't find what you are looking for here, you can call their toll-free help line or contact them through an online form. They are fast, courteous, and always willing to lend a helping hand. Brownells' website is easy to navigate, and has customer-friendly front end with user comments and photos, as well as the ability to ask questions about any product in their inventory.
Another unique tool is "AR-15 Builder" – an online WYSIWYG [What you see is what you get].  It is a drag-and-drop AR-15 Builder. Because of its modular design, the AR-15 platform can be built from a myriad of parts. This tool simplifies the process of building your own AR by allowing you to select individual components, drag and drop them onto the image of 'your custom AR-15'. The parts list is updated in the bottom your screen and you can place your order. If you have ever wanted to build a custom AR-15, give this tool a try.
3. Brownells Customer Support – Second to None!
I know what I want, and how it should be.  I research prices and quality before ever putting together an order.  I wait for sales, to maximize my legitimate discounts.  I want to get the most for my hard-earned money, and I still want high quality.  I suspect that I am a pain-in-the-butt at times, however I am always greeted with respect by the staff at Brownells.  When I change my mind, they change my order, and they make sure I am happy at the end of the day.
I recently received the following letter from Brownells.  I was surprised.  I've never been thanked in a personal letter (with the company chairman's signature!) for making purchases from a mail-order store. Gee, maybe customer service isn't dead after all!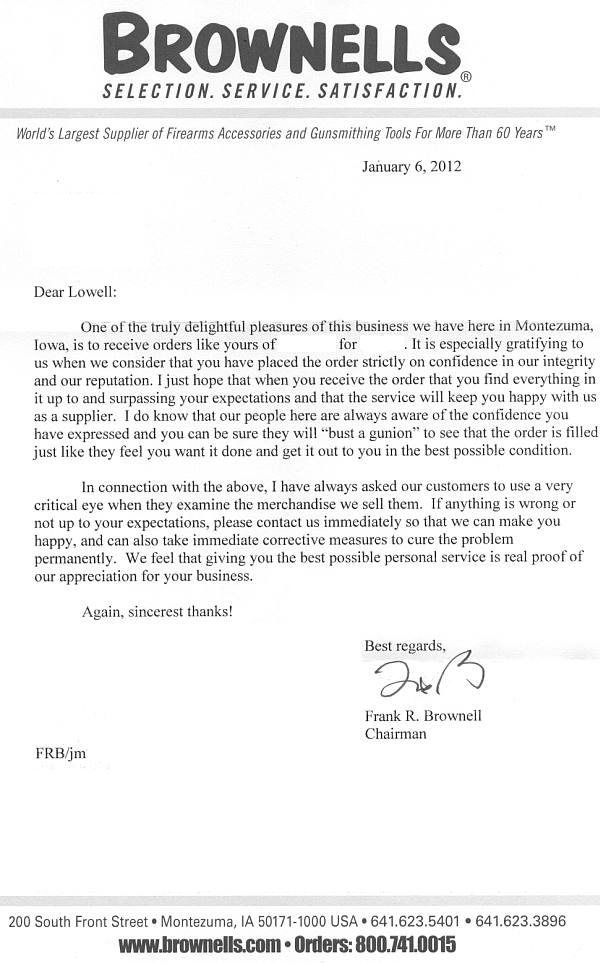 4.  Brownells ships to Canada!
Good news, Canada! You can order shooting and gunsmithing products that are difficult (if not impossible) to find in Canada.  Ordering from Brownells is straight-forward and allows me to get the tools and products that I want.  The only exceptions, due to shipping and importing restrictions, are firearms parts over $100, ammunition, and dangerous goods.  If in doubt talk to the good people at Brownells they will let you know if a product can be shipped to Canada.
Shipping is simple.  I use the U.S. Postal Service as my shipping option. I've had some bad experiences with other shipping methods. Couriers charge an arm and a leg to ship across the border, and to top it off you don't know what the charges will be until the order arrives! The postal service charges a flat fee of $8.00, plus GST /PST to ship to Canada. It doesn't get any easier than that.
5. I Already Own A Bunch Of Their Stuff
I will be doing unbiased, no BS reviews of the products I own and use on a daily basis for gunsmithing and reloading.  If I think a tool or product is great I'll tell you why. If I'm unhappy with a product I'll tell you that too. These products are purchased by me with my hard earned cash, so you can be assured I won't be wishy-washy. I will provide you with the  most accurate and detailed description I can.  I can already tell you that there are a few products from Brownells that are ho-hum, not really suitable for the kind of work I'm doing, or not really necessary.  That said, there are many products from Brownells that have been above my expectations.
I'm hoping that by reading my reviews you will know which products to buy and which to avoid, which tools are necessities and which are just luxuries.  Before making any purchase, I pour countless hours into reading reviews, doing research and performing a mini cost-benefit analysis.  I will reflect on what influenced me to make the initial purchase and whether, after testing the product, my rationale was sound.
Why am I announcing that I am an affiliate for this company, and at the same time I'm claiming to do unbiased reviews?  How is that possible?
I have been surprised by the personal, pleasant, and prompt service I've received from Brownells.  So pleasantly surprised, in fact, that I think they are worth affiliating with.  They also carry over 30,000 gunsmithing and reloading products, along with loads of technical help to inform my decisions.
The affiliate part means that if I recommend a product and you follow the link through my post to Brownells or Sinclair International and purchase the product, I make a couple of bucks (or a few cents, depending on the price of the item).  That will go right back into purchasing more gear and generating more reviews for you the reader.
In a nutshell:
1. I want quality tools and supplies, for a reasonable price [don't get me wrong –  I will pay for that quality.  I just want to get what I pay for].  I'm going to review these items honestly and in detail.
2. The service I get from Brownells is worth a lot.  For that reason alone, I'm recommending them as a supplier.
As always if you have any questions or comments on the products I review I am always happy to hear them.