Making bush pies by picking individual fillings for a bush pie is a lot of fun.  However if you are looking for the convenience of an 'all-in-one' filling this recipe will make bush pies an easy option for camping trips or anytime you come back to camp hungry and wanting a meal NOW.
Basic Recipe
1/2 lb Ground Meat (I use venison)
1/4 cup sausage (salami, pepperoni, ham etc.) or cooked crumbled bacon
1 1/2 cups of grated cheese (pizza mozza or your favorite)
1 can of sliced mushrooms
1 medium onion – diced
1/2 can of pineapple tidbits
1 – 796 ml  (28 fl oz) can of crushed tomatos (spiced to taste) or pizza sauce
Combine ingredients in a large mixing bowl.  This mixture can be used fresh, or if you want to use it later it can be frozen in a plastic container.  A frozen container of pizza topping will serve as an ice pack in your cooler, and should last for a day or two.  By the time you are ready to use the filling it will be thawed and ready to go.  Simply spoon these tasty ingredients into two pieces of bread, put in your bush pie irons, and then toast them till golden on the fire.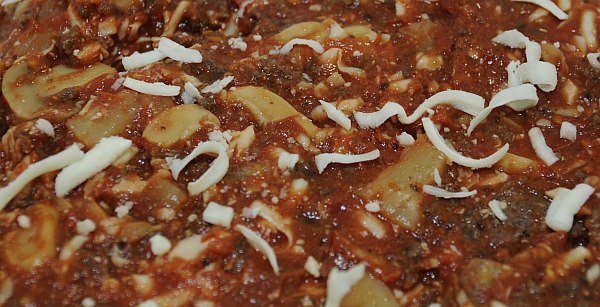 Other Possibilities
Be creative – add ingredients that everyone will like.  Green peppers, black olives, fresh mushrooms, Feta Cheese, hot peppers… whatever else you fancy.
What Are Your Favorite Bush Pie Recipes?
Tell me your favorite bush pie recipes (savory or sweet) in the comments section below.  Thanks for sharing.
Enjoy!!