Dorcy ZX Series Flashlights
I stumbled upon a great new flashlight from Dorcy that is quickly becoming my go-to light source – the Dorcy ZX300 Zoom Focus Flashlight. The flashlight is part of the Dorcy's ZX Series 3 of focusing LED flashlights. Currently these lights come in four configurations based in size and number of batteries.
3 AAA = 115 Lumen Output
3 AA = 230 Lumen Output
3 C = 350 Lumen Output
4 C = 550 Lumen Output
The physical size and lumen output varies between models in the ZX series, however the technology in the flashlights is consistent from model to model. If you are trying to decide between models, figure out how much light you require.
This review covers the Dorcy 41-0902 ZX Series 3 AA model Flashlight specification can be found on the Dorcy website. 

First Impressions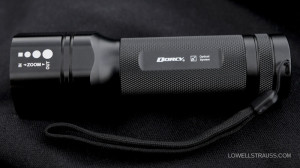 Out of the box, the ZX 300 flashlight has the feel of quality. It is a solid, well made flashlight. The attention to details is evident throughout this product. The AA model is compact in size and fits nicely in my hand. The machining on the head, hand grip, housing and tail cap are excellent. The threads on the tail cap are flawless. They turn easily and seat firmly against o-ring gasket and its housing. The battery compartment is well labeled and the batteries easy to insert and replace. The fact that this flashlight has gold tip connectors, speaks to the quality of its build. This is flashlight is built to last.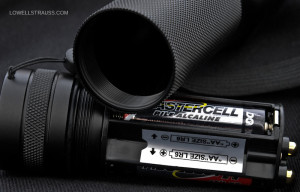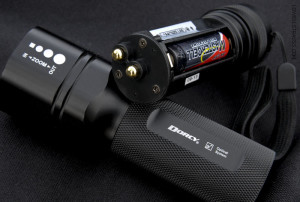 The housing is made from hard anodized aluminum which is flat black in colour. A knurled surface is machined into the hand grip to reduce slippage. The beam is easily focused (zoomed) by grasping the two machined grooves on the head of the flashlight.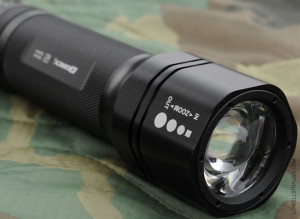 Dorcy describes the flashlight switch as a tactical multi-function switch with four functions (High/Low/Strobe/SOS) [I'm not sure why it's 'tactical']. It is a large rubber switch which is easy to locate and depress, even with gloves on.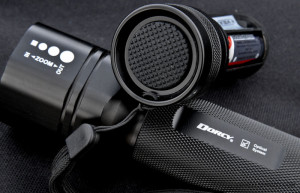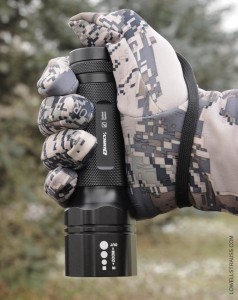 Field Performance
Okay so it looks and feels great – how does it perform?
At 230 lumens this AA powered flashlight is very bright! Almost too bright for indoor use! Luckily the flashlight is easily turned to its low power setting of 120 lumens with the half press of the switch. Outdoors at 240 lumens with the ZX300 flashlight zoomed out fully, it becomes a great search tool. I own a black lab and finding him in the dark can be a challenge. This flashlight is up to the task. I can cover a large area quickly, thanks to the wide angle of coverage that the zoomed-out light beam provides. When I need to see more detail I simply zoom in and I have a spotlight. Zoomed in I find my ZX300 to be even brighter than the Dorcy Metal Gear XL-M Extreme 618 Lumen LED flashlight (a review on this flashlight will be posted soon)! Granted, zoomed in, the ZX300 has a much narrower beam of light than the Metal Gear so I suppose this can be expected.
The ZX300 is IPX-7 water proof. This means that it will remain watertight when submerged in water up to 1m. I used my flashlight in several heavy rains and even held it underwater in a 5 gallon bucket with no problems. While I didn't push the unit to failure in this regard, I appears to be more than adequately waterproof for any wet weather use short of diving.
The ZX300 is also impact resistant from 1M. I inadvertently tested this by bumping my light off of a ladder that I was using. It fell from the top of a 3 foot step ladder onto my garage floor. Although the case now has a small scar to show for the incident, the light stills works as good as new. A nice design feature of the ZX300 is the hexagonal head which prevents the flashlight from rolling. I however bumped mine, so that feature didn't help.
The 'Tactical Switch' has four modes: high (230 lumens), low (120 lumens), strobe, and SOS. Combine these settings with the ability to zoom in the beam when an intense spotlight is needed or zoom out for searching (high output), or general tasks (zoomed out – low setting), you have a wide variety of light options for your tasks. The strobe and SOS modes are the attention-getter settings. As a flashlight for a survival bag, the SOS may come in handy, however in my opinion the strobe is far more useful. The strobe performs the same function as an SOS light – getting a passer-bye's attention. If search and rescue are looking for you and they see a strobe or an SOS, they will still come and check it out! I have used the strobe function to signal friends at great distances – even during the day this bright LED strobe can be seen for a long way.
The Dorcy ZX300 flashlight has performed flawlessly for the past 2 months of moderately heavy use. I have only one small sticking point with this flashlight and that is the switch. I find that it can be somewhat tricky to operate. To turn on the flashlight, the switch is pressed with an audible click. The first mode is high, which makes sense. To switch to the other modes you need to 'slightly' depress the button, once to switch to low, twice to switch to strobe, and three times to switch to SOS. If you don't press hard enough, nothing happens. If you press too hard you turn the flashlight off. For example, if you want the strobe mode you will need to get the button pressing sequence correct two times before the strobe comes on. If you accidentally turn off the flashlight before the desired setting, you will need to start over. It takes a little bit to get used to the 'feel' of how to switch modes. Hardly a big deal. I normally use the flashlight on the high or low setting.  For the rest it just takes getting to 'know' your flashlight – something you should with any tool.
I use my flashlight primarily for outdoor activities – hunting, fishing, camping and the like, and for work around the house and yard. The Dorcy ZX300 flashlight will also find favour in the tactical market, as well as for the home owner that wants to scare off the boogie man. It is a bit too heavy for personal everyday carry, that said it does go with me in a jacket pocket, in the truck and when not in use I stow it in my complete survival kit.
Final Verdict
I am very pleased with the quality and function of the Dorcy ZX300 zoom focus flashlight. It is compact, bright, rugged, waterproof, and runs a long time on three AA batteries. I would recommend this light to anyone who is in the market for a new LED.  The true test of any product is not just its ability to work as advertised out of the box, but to continue to work for months and years later. I will continue to use the Dorcy ZX300 for a multitude of tasks. If I find any problems I will report them here, but until then you can trust that this flashlight is lighting my way in the house, on the trail, and in the woods.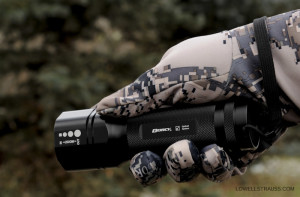 Disclaimer: Dorcy sent me ZX 300 -AA to review and provide feedback. I have included links back to the Dorcy product page for your reference. I am not affiliated with Dorcy in any way and am not receiving any financial remuneration for the review or sales that may result from this review.