Hearing Protection
Do you wear hearing protection while shooting? Every time?
Hearing protection is mandatory at gun ranges, yet some shooters have a cavalier attitude when it comes to conserving their hearing while target shooting. It's possible to suffer a hearing loss with as little as one shot! Hearing loss is also cumulative. In my experience, hunters are even more careless when it comes to protecting their ears. On a waterfowl hunt with other outdoor/gun writers, five of the ten of us didn't use hearing protection – and this is a group of professionals that rely on their hearing to communicate! I think that wingshooters may use ear-pro more often than big game hunters because of the volume of shooting they do, but there is room for improvement with all hunters.
Etymotic GunSport PRO 15 (GSP-15)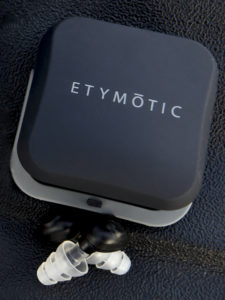 Excuses for not wearing hearing protection include: "too hot to wear"; "too bulky to shoot with", and; "prevents me from hearing game animals".  Etymotic (www.etymotic.com) solves these problems with their GunSport-PRO 15 electronic earplugs. The earplugs fit inside the ear so they don't interfere with gun stocks while shooting, plus air can circulate over your ears so they stay cool!
The GunSport PRO electronic earplugs are designed specifically for shooters by Etymotic. The GSP-15 fits inside the ear. Creating a custom fit is easy, using one of the many ear-tips included. These electronic earplugs allow natural hearing when no background noise is present, and progressively increase protection from loud continuous noises like machinery or percussive blasts like nearby gunfire. The plugs have two modes: "low" allows natural hearing and protection from dangerous noise, while "high" amplifies sounds by 5X. There's a lot of technology built into such a small package! GSP-15 have a 25 dB NRR (Noise Reduction Rating). Included in the box are different styles of ear tips for optimum fit. For a complete list of GSP-15's Technical Specs, Frequently Asked Questions, Instructions, and other user Reviews and Ratings check out:  https://www.etymotic.com/consumer/hearing-protection/gsp15.html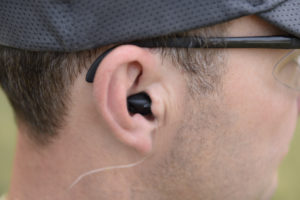 I put the GSP-15 earplugs to the test at the 2017 SHOT Show Industry Day at the Range. Amidst all the gunfire, these plugs kept my ears safe and still allowed me to have conversations with industry reps.
A couple of drawbacks worth mentioning.
Due to their compact size, the earplugs need a small battery with a very short battery life. The GSP-15 uses standard #10 hearing aid batteries. Activate batteries by removing a small tab. Once removed the batteries begin losing their charge and last for about 10 days. So for the casual shooter, this probably means fresh batteries everytime you head out shooting. Buying in bulk is the easiest way to save a few bucks. The good news is that the GSP-15s still work as passive hearing protection if the batteries die, but it's a good practice to keep spare batteries handy to keep earplugs running as they were designed.
The second drawback is their price. With MSRP of $299 USD, these earplugs are not in everyone's budget. That said, the best hearing protection is what you'll wear – every time! I'm confident that once you try the GSP-15s you'll be happy you invested in your hearing – something that you can't put a price on!
At the end of the day, it's important to always wear hearing protection while shooting! Whether it's ideal, like a pair of Etymoic earplugs or cheap and easy like a pair of foamies, make sure you use something.  Permanent hearing damage can happen with just one shot!
DISCLAIMER: Etymotic sent me a pair of GunSport-PRO electronic earplugs to test and review. All opinions and thoughts are my own. I did not receive any financial compensation for writing this post.