A Wilderness Tool for 21st Century
If Space is "the final frontier", wilderness was the first. The Fisher Space Pen is the ultimate tool for the outdoor enthusiast, as well as a wide array of interests and occupations such as scuba diving, paramedics, military & police, and construction, to name a few.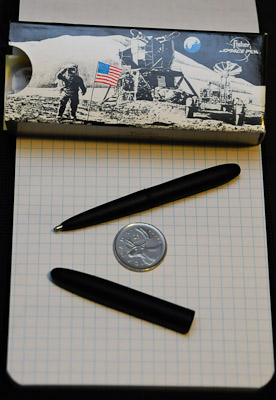 This pen has a number of special features that make it the perfect tool for harsh environments.  It was developed by Paul C. Fisher of the Fisher Pen Company in 1966 for space missions.  The ink cartridge is pressurized with nitrogen so doesn't require gravity to flow.  As such it can be used at any angle including upside down (for those times when you need to write over your head).  It can write on a wide variety of materials, on wet and many greasy surfaces, and it can even write underwater!
After using the pen for a number of years I have made the following observations:
Highlights
Functions in all the temperatures I have subjected it to.  Specifications= operating temperatures -30

º

F (-34

º

C) to 250º F (121º C). Covers almost all working environments!
Pressurized ink cartridge not reliant on gravity to feed.  You can write with the pen upside down if you need to.
Ultra-hard tungsten carbide ball writes on most surfaces with out damage.
Writes on many smooth and even greasy surfaces: hunting tags, maps, photo notes, trip journals, hunting logs, wet lumber and wood, latex gloves, skin, rubber, sheet metal, the list goes on…
Writes underwater and on wet surfaces!
Company claims – ink shelf-life 100 years (should use it up or loose the pen long before it dries up).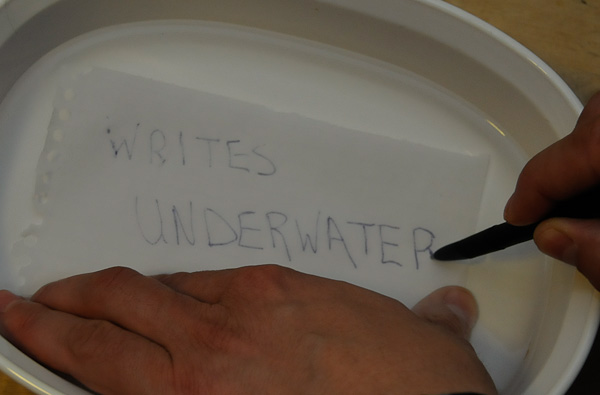 Options
Comes in a multitude of ink colours: Black, Blue, Red, Green, Burgundy, Purple, Brown, Turquoise, and Silver.  Silver is a good choice for dark surfaces.
Different pen body styles – Novelty (Cartridge Case) to Designer to Functional (Tactical Military/Police)
Different configurations to suite different users (Ink colour, point style, body type).
Can purchase the refills separately.  Tip – You can get all the benefits of a "space pen" in your favorite pen body by purchasing the appropriate refill.
Drawbacks
Pricey.
The standard Fisher "Bullet Space Pen" is small with with a 2 part smooth barrel housing.  Care must be taken not to loose the cap, the main body, or both.  For outdoor use I would recommend a larger pen body with a a clip – to prevent loosing.
Final Verdict
YES – I recommend this pen for all of the positives that I have mentioned.  The price is a drawback especially if you are prone to loosing pens. In some ways though, purchasing an expensive high-tech pen like the Fisher Space Pen is a lot like purchasing expensive sunglasses. If you have an substantial investment in your sunglasses you are much more likely to take care of them like the Space Pen. If you pick up a pair shades for a couple of bucks at the corner store you tend to be more careless with them – like a disposable pen.
Do you own a Fisher Space Pen?  Do you agree with my recommendation?  How do you use your pen? 
Let me know.
Canadian Space Pen Source
United States Space Pen Source
Interesting Reading