It's Friday.  The dog has recovered from our last pheasant hunt and for the most part I have too.  The first snowfall has come and gone, yet it is starting to feel more like early winter than late fall.  Though I was in the field only 6 days ago, I'm yearning to go back. Maybe it's the strips of pheasant breast sauteed in olive oil I had for supper. Perhaps it's the images of roosters bursting from the grass at my feet that play in my mind as I drift off to sleep.  Whatever it is, I truly love wingshooting – especially wily old rooster pheasants.
Here are my top 5 reasons why I love pulling the trigger on the king of upland game birds.
5) Wild roosters are smart
Like big bucks, dumb roosters don't grow old. I think most of the young naive roosters are shot within the first couple of days in the season.  Those that are shot at but not killed are now educated roosters – much more difficult to flush a second or third time.  Roosters smart enough to tuck away where hunters do not go can live life without so much as a ruffled feather from a stray pellet.  Being successful with wild roosters means being able to think how they think. Locate the roosters and you're likely to have success if you play things right. No two scenarios play out the same.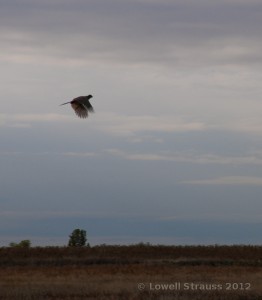 4) Pheasants occupy a variety of habitats

The diversity of habitats that pheasants occupy keeps the hunt interesting.  Pheasants can be found in everything from pastures with minimal cover to dense CRP fields, yard sites to wheat fields, and cattails to dense brush.  Patches of weeds along a cropland edge can be particularly good spots to look for birds no matter what the size. As a hunter you can exert as much or as little effort you feel necessary or interesting to take roosters throughout the season.
Conservation projects focused around pheasants are good for many other species as well considering the diversity of habitats that they occupy.  It makes me happy to see animals like owls, coyotes, and deer while moving through 'pheasant' habitat.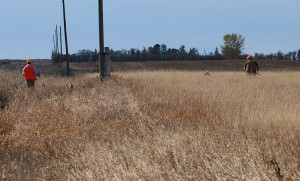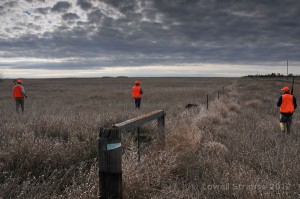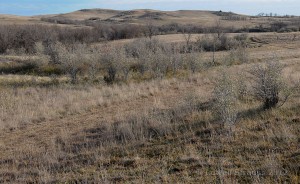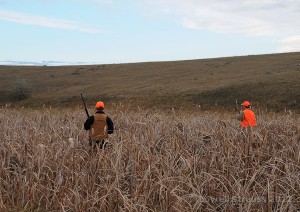 3) Hunting with a well trained bird dog is more than half the fun
No matter what type of dog you hunt with – retriever, spaniel, pointer, or setter – learning to read your dog is one of the best parts of bird hunting.  Every tail twitch, head movement, and change in speed indicates his level of excitement. Is he tired, or is there no scent? Is she full of morning energy, or is she hot on the trail of a bird?
Remembering back to my first pheasant hunts, although I had a dog I was focused on me getting a bird.  It wasn't until my dog and I truly gelled as a hunting team that I started having my best hunting experiences.  I've now come to a point in my journey as a hunter where I owe it to my dog for one last hunt this season…how things have changed.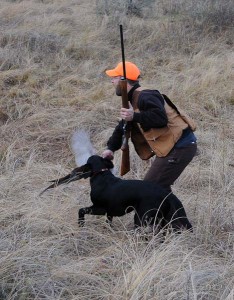 2) They are delicious
There are numerous methods of preparing pheasant. It is mild and has a uniquely 'spiced' flavor that needs to be tasted to be appreciated.  You can substitute pheasant in almost any chicken recipe. Preparing pheasant in a cream sauce or simply sauteing it in olive oil are two ways of savoring the full flavor of the pheasant.
In my books, pheasant is the game to serve non-hunters. It is mild and pleasant, yet distinctly not chicken.  Everyone from just-feed-the-machine eaters to serious foodies appreciate the delicate flavor and mouth-pleasing texture of pheasant.
1) Sustainable hunting at its best
Pheasant hunting is sustainable, which pleases the conservationist inside of me. Pheasants are an exotic bird outside of their natural range of China. They thrive in a variety of areas and habitats. They typically occupy different niches than native upland birds. From an ecological perspective they have a minimal effect on the environment and other wildlife. They are relatively easy to rear in captivity, meaning that raised birds can be used to supplement wild populations where and when desired.  Hunters can easily distinguish between roosters and hens in the field – hens live to reproduce while roosters are harvested, so hunting has little long term effect on the population.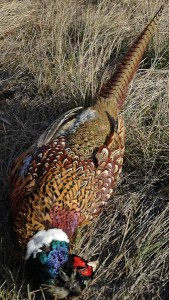 If you like this article you might also like:
Hunting Early Season Pheasants