Several of my family and friends are either gluten intolerant or Celiac.  A family favorite campfire food is bush pies. Problem is, one of the main ingredients is bread.  We found that commercial gluten free bread didn't fit the sandwich makers properly and therefore didn't seal.  We came up with a work-around, a Gluten Free Pancake.  Round in shape, they fit perfectly in a pie iron, seal well, toast evenly and don't leak any more cheese or juice than normal bread.  The only difference you will notice from regular bread is that they have a slightly different texture.  The edges will still get nice and crispy.
So for anyone wanting to try bushpies, either savory such as pizza or a dessert pie like Black Forest, but couldn't because of gluten, this recipe is for you.
Gluten Free Pancakes for Bush Pies
First, mix up some gluten free flour – whatever flour mix you are accustomed to using in standard baking.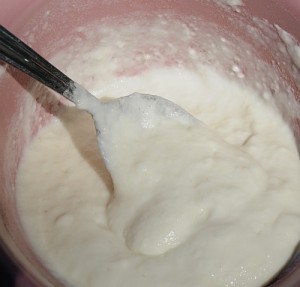 Sample GF flour mix:
1 c white rice flour
½ c tapioca flour
½ c potato starch/flour
Blend well.
Pancakes:
1 c. of GF flour mix
½ tsp salt
½ tsp xanthan gum
1 tbsp GF baking powder
1 egg (or substitute), beaten.
1 1/4 c. milk (or substitute, or water)
[For sweet pies, add 2 tsp sugar and a dash of cinnamon and/or a drop of vanilla.  A tablespoon of well-mashed banana or applesauce can be nice, too.]
1. Mix dry ingredients, then add all wet ingredients together.
2. Blend well – you may need to add more milk or water.  The batter should be a bit soupy, more like a crepe batter than a pancake batter.
3. Heat a flat non-stick frying pan or pancake griddle to medium heat, brush with oil.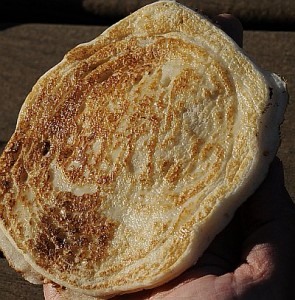 4. Pour about a quarter of a cup of batter (a few big spoonfuls) onto the hot surface.  Lift up the pan and swirl the batter carefully to make a pancake of even thickness, slightly wider in diameter than your bush-pie irons.
5. Cook until bubbles come through to the surface and then carefully flip it.  It should be lightly browned on both sides, not too brown because you will be cooking it again!
6. Remove cooked pancake to a plate.  Stack them up as you go.  If you keep them warm they are easier to handle when making bush pies.
7.  When using these pancakes, either butter (margarine) them lightly on the pie-iron side, or lightly brush the pie irons with vegetable oil before putting in the pancakes.
8.  Make the bush pies (pizza or dessert) with these pancakes instead of bread.  Enjoy!
Other notes:
– You want the finished pancakes to be about an eighth of an inch (3 mm) thick.  After the first pancake is cooked and you know how it turned out, you may need to adjust your batter (thin it a bit with water or thicken with a bit more flour).
– Reserve one bush pie iron (newly cleaned) for the GF pies, if you're really sensitive.
– This amount of batter may be too much, so you can:
1.  Freeze the batter once you have enough pancakes (remember, you need 2 per bush pie).  It thaws nicely at room temperature and just give it a good stir before you use it again.
2.  Make all of the pancakes, and then freeze them in a zip-lock baggie.  They keep quite well.  Just don't overheat them if you try to thaw them in the microwave – they will get brittle.