New (and Tasty) Backpack Meal Options for Canadians
In my recent article Backpack Cuisine for Outdoor Canada's 2017 Adventure issue, I explored the options for how to travel light but eat well on a backcountry adventure. Over the years I have tried most of the brands of commercial freeze-dried meals. Some were okay. Others were blah. But there's good news for Canadian backpackers…Good To-Go meals is a brand that's turning heads and exciting taste buds. In fact, Good To-Go Oatmeal meal earned the prestigious 2017 Editors' Choice Award from Backpacker Magazine! The brand's mission is to elevate expectations of what trail food can taste like. Mission accomplished! Good To-Go currently offers ten delicious meal options.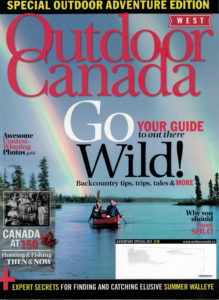 Good To-Go was co-founded by Jennifer Scism, an award-winning chef.  Scism has traveled to over 20 countries studying regional foods. Her team – from trendy Annisa restaurant in New York's Greenwich Village – has even beaten the Iron Chef, Mario Batali, on the TV Food Network's Iron Chef program! She knows good food. Obviously. Good To-Go co-founder David Koorits has spent a career as a wilderness therapy counselor, ski patroller, wildland firefighter, and nurse. Good To-Go started in 2014 and has steadily grown since then. More than 500 stores in the United States sell Good To-Go. MEC, Valhalla Pure, and Camper's Village are the first to sell Good To-Go in Canada.