The AeroHead boot by Lacrosse Footwear. High tech comfort, warmth and durability for your feet. These boots use AeroForm technology, where a polyurethane shell is molded around a neoprene core to provide a durable, flexible, insulating and lightweight boot material, superior to rubber. The boots have a thick cushion underfoot, an integrated shank for support and a durable rubber outsole. They sound great – but do they live up to what they claim? Let's see…
Cold wet feet take all the fun out of being outdoors. Traditional rubber boots keep your feet dry, but are terrible for walking in (blisters, anyone?) and are not particularly warm. Adding felt pacs helps with warmth, but still doesn't provide you with a boot that you can walk in. I am hard on my footwear, and most boots are hard on my feet – I guess it's their way of getting even, by giving me blisters.  Just ask any of my hunting buddies (thanks for your patience!)
When I was asked by Lacrosse Footwear to test out their AeroHead boot, I jumped at the opportunity.  Who doesn't want to have dry, warm, and comfy feet when working and playing outdoors? Lacrosse claims the AeroHead is tough as nails, warm, waterproof, and super comfy. Pretty big claims. Well, after and estimated 100 + miles in the field, a Canadian winter's worth of shovelling snow, and many days sitting in blinds, tree stands, and standing on a frozen lake in the past year, I have a new appreciation for the quality and design of AeroHead boots.
AeroHead Boot Review
Comfort
Slipping my feet into these boots for the first time, I was struck by how comfortable they were. There is no break-in period for boots of this type, so a good fit from the start is essential. Stepping onto these boots was like stepping barefoot on a very plush carpet with thick underlay. I expected such comfort to come at the expense of fit. This was not the case. The boots support my entire foot and prevent heel movement that causes blisters. Lacrosse calls this design "Ankle Fit". I call it clever.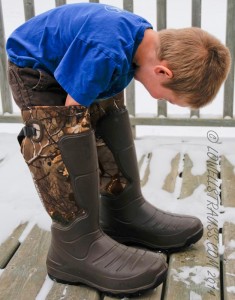 Warmth
I do much of my hunting and fishing in prairie Canada, an environment known for its extremely cold conditions. If I was going to ditch my heavy felt snow boots for a waterproof, hunting boot, such as the AeroHead, it needed to be warm. The winter of 2013-14 has been extremely cold with many days below 30°C (-22°F) down to as cold as -40°C (-40°F). AeroHead boots with 7mm neoprene for insulation are rated at -51°C (-60°F) so I wasn't able to test these boots to their minimum rated temperature (thankfully!!).  Not once did my get feet cold in these boots! I think this is at least partly a function of the thick cushion underfoot that insulates your feet from the cold surfaces you encounter outdoors such as frozen ground and ice.
Durability
AeroHead boots use an abrasion resistant material they call Brush Tuff. My hunting takes me through a lot of 'buck brush' as well as rose, cattail and deadfall, all of which are abrasive and wear out boots quickly. After a full year of use, the boots look as good as new (photo below), a testament to the fact that these boots really are that tough.
Waterproofness
It is assumed that a boot using the materials and design of the AeroHead will be waterproof, barring an actual hole in the boot. However every boot has its "Achilles heel" – a place where it will start to leak – which is generally the seams. All seams on the Aerohead are covered in "Armor Weld", a liquid rubber sealant. This sealant appears to be very strongly bonded to the boot. I see no visible signs of wear, even after a year of use. This boot remain 100% waterproof.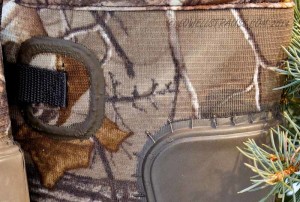 Bonus Features
The design of the upper allows even bulky clothing to be easily tucked into the boot. This allowed me to keep my pants dry inside the boot in wet and cold weather. The sole, made of rubber, also seems to very durable. I've walked on every type of surface from frozen gravel roads and concrete, to trails through the forest; I've waded through muddy marshes and frozen lakes. The grip is excellent in all conditions and, like the rest of the boot, appears to be extremely durable. Rubber soles that wear well often get hard and slippery in sub-zero temperatures. The AeroHead boot remained flexible throughout the temperature range that I used them in (down to  -40°C /°F).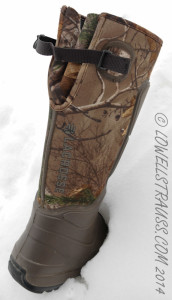 Conclusion
The AeroHead boot is an excellent choice for the outdoors enthusiast. With normal use these boots will give you years of service. These boots have become my go-to boots from late fall to late spring. I have used them for deer hunting, waterfowling, coyote hunting, and ice fishing, as well as general chores around the yard. I will continue to use them from ice break-up until well after ice is gone and the water starts to warm this spring water for bowfishing and snow goose hunting. I honestly dodn't have anything negative to say about these boots.  That means a lot coming from a guy that is usually nursing a blister or trying to warm his feet after sitting still for any length of time. I highly recommend the AeroHead boot by Lacrosse. Good job, folks.