If you tell someone that you just received a WingOne® clay target thrower in the mail, their first thought is likely that you got it to sharpen your shotgun skills. Here in Saskatchewan we are still locked in winter's grip, yet I didn't let that deter me from tossing a couple of targets just to see how well this new thrower works.
Like clockwork, my 6-year-old lab reminds me it is time for his daily constitutional. I bundle up and head out to brave the cold. I jam a handful of clays in my pocket and tuck the WingOne® under my arm. Little did I realize that I was about to learn two very interesting things….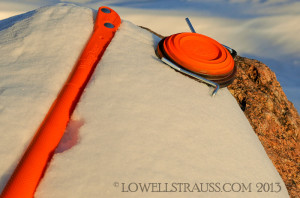 The WingOne® has a couple of unique design features that make it work so well. A rubber bushing on the target thrower gently cradles the clay as the thrower arm is cocked and the target it thrown. It is the rubber bushing that grips the target and imparts a spin on it. The spin stabilizes the target in flight and allows it to travel much further than a traditional hand-held clay target thrower.
So enough about the mechanics of it all – what did I learn?
Lesson 1 – the WingOne® excels at throwing clay targets by hand and it is so gentle on the targets that I never broke one in the loading or throwing operation despite the temperature being a crisp -15F (-26C).
As I was only trying the WingOne® and not actually shooting at the targets in flight, the only clays that broke where those that hit a hard snow drift, which brings me to the second thing that I learned….
Lesson 2 – black labs can be extremely 'soft mouthed'!   Seeing a 'downed bird', my dog took off for the retrieve. I thought to myself as he pounced on the clay target, "…that one is history!" To my amazement, he came running back with the clay in his mouth, ready to be thrown again, and again, and… well the original 5 clays that I took out for a quick test ended up lasting for 20 minutes of fun and gave my dog one heck of a good workout.
So to the good people at WingOne®, thanks for building the world's best hand-held target thrower and 'dog exerciser'. You might consider marketing to a whole new audience with this one 😉