Dogs enrich our lives in many ways, from that ever-happy greeting when you come home to the buddy by your side on life's many adventures. Anyone who has ever had a dog knows exactly what I am talking about.
Hunting and fishing provide me and my family with our primary source of high quality protein. Our dogs tag along, or actively assist with the procurement of this wild game. Because they are my hunting partners and members of our family, I have always fed my dogs high quality dog food.  For both my people and my dogs, I believe that what fuels us is very important – it's the building blocks of what keeps us healthy (you are what you eat, after all!). Merrick Pet Care has launched a new ancestral canine diet called Backcountry – #wild4backcountry. This dog food combines high-protein kibble with chunks of freeze-dried raw meat.  I was approached by Merrick to have my dogs become ambassadors for this new line of dog food – especially for fueling an adventure for me and my best buddies.  I jumped at the opportunity to review this new diet with my dogs! #bestdogever
My Dogs
My two Labrador retrievers are my constant companions in the outdoors, and valued members our family. My dogs are also working dogs – hunters. We have a special bond in the field. We are a team, reading each other like a book as we hunt the marshes, fields, and woodlands for birds. I ask a lot of my dogs. They bust through dense cattail marshes to retrieve ducks, run hard for hours in the rolling grasslands to find, flush, and retrieve pheasants, and sit patiently in my boat, canoe, or blind to wait for the wily birds to come to us, then explode into action for the retrieve.  They are high performance athletes!

My black lab Radar (9 years old) developed diet issues at age three.  He barfed repeatedly, lost weight, got runny eyes, and looked miserable.  The poor guy – we were getting a bit worried and took him to the vet, who thought it might be a food issue.  We tried him on a number of different diets until we found out that chicken-based foods seemed to be the cause of his tummy troubles.  Interestingly, the Backcountry line has four recipes that use different proteins, which actually offers us some variety! The Backcountry Great Plains Red Meat recipe made with beef, lamb and rabbit (and salmon and pea protein) is a great choice for Radar. Merrick is also aware of other dietary issues, and their Backcountry line is grain-free (hey – even dogs can be gluten intolerant!).
My yellow lab, Bella, is just a puppy.  Since quality proteins and fats are essential for growth and development in dogs, I try to buy the best possible puppy food.  At 8 months old, I switched Bella over to the Backcountry puppy recipe. It is a chicken-based ancestral diet with no grains, and lots of protein and fat. Exactly what she needs to grow and thrive.
Labs are notorious for not regulating their own food intake (they will eat until they burst!).  Backcountry is a nutrient dense formula allows for smaller servings and helps to optimize weight management.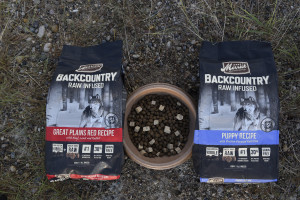 Merrick Backcountry – First Impressions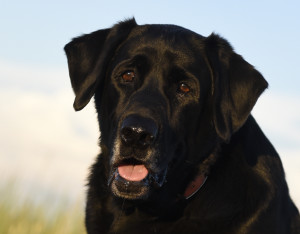 The smells wafting from the newly-opened bag of Backcountry had both of my dogs wagging in eager anticipation. When I began scooping food into their respective bowls, they began 'the dance' – back and forth behind me, toenails 'tick'ing on the floor. The sight and smell of the dog food was too much for them! My otherwise very obedient dogs both broke to try and grab a mouthful of food. I actually had to stand back and remind them to "sit" before they got their food. Finally, I gave them the okay, and they wolfed down the Merrick Backcountry like there was no tomorrow.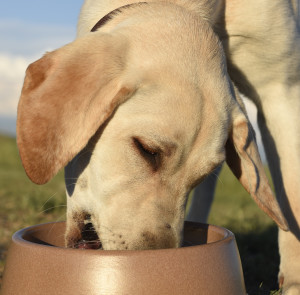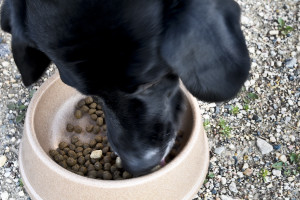 Also in the Merrick Backcountry line are seven grain-free canned recipes. While I don't feed my dogs canned dog food in the 'off-season', I do feed it after a long day hunting in the field. Despite a lab's voracious appetite most of the time, sometimes at the end of a long day in the field my dog won't eat his dry food.  Too tired?  maybe, but that's the time when he needs energy the most! Add in a can of wet food, especially something like a Backcountry stew with gravy (which, by the way, looks good enough for *me* to eat! forget about that greasy burger…)
 
Nutrition
Dogs need high-protein foods to repair muscles, and foods dense in calories – specifically fats. The Great Plains Red Meat recipe has a whopping 38% protein and 17% fat. This is an optimal ratio for hard-working dogs. This particular recipe also includes 1200 mg/kg of glucosamine and chondroitin sulfate – two ingredients I've found help my older dog from getting too sore after a day in the field.  A thoughtful addition.  These fats and amino acids also contribute to a healthier skin and coat – which I noticed within one week of switching to Merrick Backcountry.
 
Final Thoughts
While I've only been feeding my dogs with Merrick Backcountry for a short time, I am impressed with the diet. It seems to have a high satiation value meaning my dogs feel full between meals. The number of pieces of raw freeze-dried meat is very generous and the dogs absolutely love eating them. I had no trouble switching them over to the new diet (Check out http://www.merrickpetcare.com/how-to-switch for great tips on how-to switch to a new dog food).
My Adventure – Fueled by Merrick Backcountry
One of the coolest parts of my partnership with Merrick is that they are helping me complete a outdoor adventure with my two furry traveling buddies. In the next month we will be camping, hiking, and canoeing our way through some of the most picturesque landscapes of the western Canadian prairies and forests. Every day will be a mini-adventure that I will be sharing with you through this blog and my social media channels.
Join us in our journey. I know we can't wait!
Learn More
For more information on Merrick and its family of products including the all new Backcountry visit Merrick's website at http://www.merrickpetcare.com. While you're there check out the dog food calculator, tips on switching foods, and answers to your Merrick dog food questions.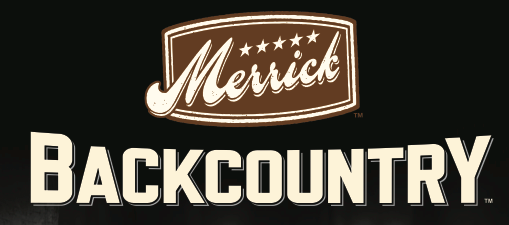 Disclaimer: This post is brought to you in partnership with Merrick. All thoughts and opinions are my own. Merrick provided my dogs Radar and Bella with a sample bags of Backcounty Great Plains Red Meat and Puppy Recipe food as well as six different canned recipes to use and evaluate.  They also contributed a small amount of $ to help fund our upcoming adventure.