2014
Spring Snow Goose and Field Conditions
April 23 Update:
Heavy rain today. While the weather may alter snow goose behaviour somewhat I don't suspect it has changed the number of birds in the area. Travel on the gravel roads will be difficult until we have had some warm dry weather.
April 22 Update:
Today I observed the highest number of snow geese so far this spring. The daytime high reach +20C and the melt water is once again open. I observed moderate to large flocks (500-5000+ birds) in 11 different field on a 50 km drive that I took. Most of the birds were seen feeding in harvested grain fields, however some of the flocks were roosting on large open bodies of water.  The conditions are perfect for hunting snow geese this spring.
April 20 Update:
All of the new snow from 18 April has melted. The migrating waterfowl are once again on the move. Dozens of small flocks (50-200 birds) are flying overhead. Small flocks of sandhill cranes are seen in some areas. Moderate sized flocks of snow geese are feeding in the fields. Many good jump shooting and/or decoying opportunities exist.
April 18 Update:
Wet snow mixed with rain has changed bird behaviour. I have observed only a few small flocks of snow geese flying overhead today. I suspect the local large flocks observed on 13 April are still together. I doubt any new birds will show up until this system clears.
April 13 Update:
Daytime temperatures for the past couple of days have been below freezing. Sheet water ponds that formed during the spring thaw have frozen again. There are very large flocks of Canada geese, with some flocks numbering in the hundreds. Large flocks of mallards and pintails can be found in many locations. The snow geese have congregated into very large flocks of thousands to 10,000+ birds. If you find these flocks you are sure to have some success.
April 10 Update:
Daytime temperatures have been around 10C for the past few days and are forecast to continue until the weekend. Much of the snow is gone, and most fields have standing water. Snow goose flock numbers and size are increasing daily. Flocks numbering in the hundreds were observed this morning. There is open water in the shallow parts of Last Mountain lake where local runoff has eroded the ice. Today we have strong winds 28Km/hr gusting to 43 Km/hr. Hunting conditions should be good, however field access will be limited.
April 8 Update:
The first snow geese have arrived at the north end of Last Mountain Lake,* Saskatchewan today. Birds were seen in three separate flocks of 25, ~50, and ~ 90. A daytime temperature of +10C (50F) is rapidly melting the snow that remains. Sheet water is standing in the fields. The creeks are starting to flow. There is no open water on the lake yet, however there is standing melt water on the ice. These temperatures are forecast to last until the weekend. A moderate south wind (~15km/hr) is likely assisting in the new goose sightings today. In addition to the snow geese the area has many breeding pairs as well as migratory flocks of Canada geese.
2013
May 10 Update:
The spring of 2013 continues to be abnormal as far as waterfowl migration is concerned.  Large flocks of white-fronted geese have moved through the Last Mountain Lake area in the past week, but very few flocks of snow geese have been observed. Snow geese have been heard flying over at night, and small groups were roosting on open portions of the lake at night. Last Mountain lake is still mostly ice cover, however there is open water at the inflows of the lake as both local and regional melt water has peaked or will be peaking shortly. A windy day like we are experiencing today will likely accelerate the breakup and melting of the lake ice. Reports of snow geese are starting to trickle in from Alaska and elsewhere. Due in part to the late spring melt, if there are any migrating snow geese left in southern Saskatchewan they likely won't stick around long.
April 26 Update:
The past two days we have seen warm daytime temperatures and strong south winds. The number of migrating waterfowl has increasing significantly and will likely continue as the temperature over the next few days is expected to break 10C. There are dozens of snow goose flocks ranging in size from 50-100 birds. A few larger flocks (500-1000 birds) have also been reported on both the east and west sides of Last Mountain Lake in Saskatchewan.  Hunters should be able to see some action this weekend if you can locate the birds.
Record Snowfall and Late Melt
In Saskatchewan we received a staggering amount of snow this past winter and are experiencing the the latest spring melt on record. Last Mountain Lake, a major stopover spot for migrating waterfowl, is frozen solid. The creeks and rivers that feed and drain this vast water body are still covered in snow and ice. In a few spots, water from local runoff is lying on the ice. This along with the strong sun will no doubt get things moving soon, but when?
Field Conditions
Normally, at this time of year the only snow to be found is tucked away deep within a north-facing copse of trees. Fields are normally bare, dotted with temporary wetlands that form each year after the melt. In some years farmers are busy scratching in the dirt – preparing the land for the upcoming crop. This year the only melt water to be found is along the highways where the heat of the sun is transforms the snow in the ditches into sloughs. The snow is melting slowly.  In the part of the province where I live, we went into the winter with the field conditions being very dry. Any local runoff is soaking into the thirsty earth, or evaporating by the freeze-thaw cycle that happens daily.  Though this is good news for those people at risk of being flooded, this spring's habitat conditions are not particularly favourable for returning waterfowl .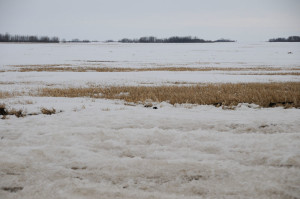 Waterfowl Report
Snow goose numbers in the central to eastern part of the province are from very low to non-existent. As a matter of fact I saw my first and only flock of 7 snow geese this spring (3 whites and 4 blues) on a Saturday April 20.  Canada geese (both resident and migrants) are here is good numbers. According to the Ducks Unlimited Migration Map the majority of the snow geese are still in South Dakota. Canada geese are further north, with the breeding populations staking out their territories. There are reliable reports trickling in that around Lucky Lake there are some snow geese. I have also heard reports of snow geese in southern Alberta and along the foothills. There may be other spots, but I'm just not aware of them.
2013 Spring Snow Goose Hunt in Saskatchewan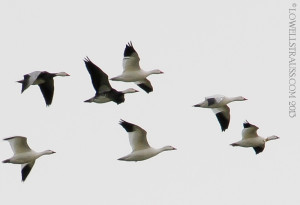 What this means for the waterfowl hunter hoping to take advantage of the 'conservation harvest' season? The spring season opened on April 1 in Saskatchewan. West of 106 (degrees longitude) the season closes on April 30th in order to protect migrating Ross' geese. Hunters in this area may take a few geese, but the harvest numbers will likely be very low. East of 106 (degrees longitude) the season runs until May 31. Only time will tell how long the geese will stay around once the weather really starts to warm up and the snow line moves north. Making an uneducated guess, Saskatchewan's 2013 spring snow goose 'conservation harvest' hunt will likely go down in history as having little to no affect on the snow goose population. If you have hunted snow geese this spring, what were the conditions like where you live?   *Last Mountain Lake is situated between Regina and Saskatoon in Saskatchewan.