I use firearms in many parts of my life: work, hunting, target shooting, competition, plinking. I keep my guns clean because I want them to go 'bang' when I pull the trigger. Most gun malfunctions can be traced back to improper cleaning. Cleaning involves removing carbon fouling, lead, and copper. Fail to do this and you may end up with a firearm that doesn't operate as designed.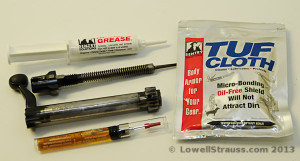 Sentry Solutions* produces a number of advanced firearm protection products.  These products address three major problems: 1) Oil based lubricants attract dirt, which can damage your firearm; 2) Wet lubricants rub off, leaving your gun unprotected; 3)Traditional lubricants can thicken in the cold, or run when hot. These conditions can, in the short term, cause firearm malfunctions and in the long term, will not protect your firearm from wear and rust.
Most firearms are subjected to a wide variety of environmental conditions. In cold environments, lubricants can freeze, and you battle rust-creating condensation when a firearm is brought into a warm place. In hot environments, the enemy is either dust or humidity depending on where they are used.
My rule of thumb for firearm lubrication is to run my guns 'dry' or with a minimal amount of lube in cold (below freezing) or hot+dry conditions. The reason for this is to prevent the lube from freezing (thickening) which can cause a firearm malfunction – firing pins are notorious for 'hanging up' in the cold.  In hot+dry conditions, it prevents dust from sticking to the lube.  For humid and/or wet conditions, and for longer term storage, I use a generous amount of lubricant to protect my guns from rusting.
Though my rule of thumb works well most of the time, it means that I need to clean and lubricate my firearms immediately after use to prevent rusting. Most of my gun use occurs in hot+dry or cold environments. I wanted to explore an alternative to running my firearms completely dry in these conditions. I found an oil-free, dry lubricant made by Sentry Solutions*. They graciously sent me a sample of some of their products to test. These are my finding so far.
Sentry Solutions* TUF-Cloth and Marine TUF-Cloth
The TUF-Cloth series of products are lint-free cloths impregnated with the Sentry Solutions* oil-free metal protector. The product is a good option in cold or hot+dry environments because as a dry film it will not attract dust or freeze and cause firearm malfunctions.
I found TUF-cloths very easy to use. Simply remove the cloth from its spill-proof package and wipe with moderate pressure on the gun metal you want to protect. The active ingredient will bond to the metal while the carrier (mineral spirits) evaporates off.  Sentry Solutions* suggests that you should use TUF-cloth every time you handle your firearm at first to ensure adequate protection. Once a layer of the active ingredient is built up it will last on the firearm for several weeks and will only need to be applied periodically. I like to give my guns a quick wipe down each time I'm finished cleaning them, that way they are always protected. Because mineral spirits are used as the solvent using the TUF-cloth is a smelly job – the smell lingers in my gun room and on my hands for several hours!  But once the spirits evaporate the proprietary chemicals in the TUF-cloth adhere to the most surfaces and protect them from oxidation. The smell dissipates after the solvent is gone. The TUF-cloth itself appears to last for a long time! I've been using mine for several months with no sign of it wearing out. To renew a TUF-Cloth simply add a teaspoon of mineral spirits to the cloth and place it back in its storage bag. Too easy!
The Marine TUF-Cloth works in the same manner as the regular TUF-Cloth, but has additional ingredients that go on thicker and help protect firearms in salt-water environments.  I'm about as far from the ocean as it gets, so I haven't tested the marine version yet!
Sentry Solutions* Hi-Slip Grease
The name says it all. This product is super slippery and it comes in a convenient applicator allowing you to put the grease where you need it. A little goes a long, long way!  It is designed to function from -54C/-65F to 343C/650F – so far I've tested it down to -30 C/-22F with no signs of freezing, on a rifle that had the firing pin stick last year. I wouldn't hesitate to use this in my firearms even under the most extreme cold conditions – and an added benefit is that my firearm is protected from the frost that condenses on it when it's back in my warm truck or house.
Sentry Solutions* TUF-Glide
TUF-Glide is another oil-free product by Sentry Solutions* designed to protect the hard-to-reach areas of your firearms. It can be used in conjunction with TUF-Cloth and Hi-Slip grease as a complete cleaning system for your firearms (with the exception of the bore). A small drop on moving parts protects and lubricates. I've tested TUF-Glide to -30 C/-22F with no thickening or gumminess in the action. I will be using it this summer to see if this product thins out in the heat.
The Sentry Solutions* family of products work together as complete cleaning, lubrication, and protection system for your firearms. There are a lot of different choices when it comes to firearms cleaning and lubrication products. Companies design and engineer their products to work together. Sentry Solutions* has certainly done this with their product line. In addition, they have taken a different approach by creating an oil-free and dry lubricant line-up that helps protect your gear in a wide variety of environments.  I've been using these products from Sentry Solutions* for 6 months, and they are living up to their design!
* Sentry Solutions is now branded as Sentry under the Sentry Products Group.