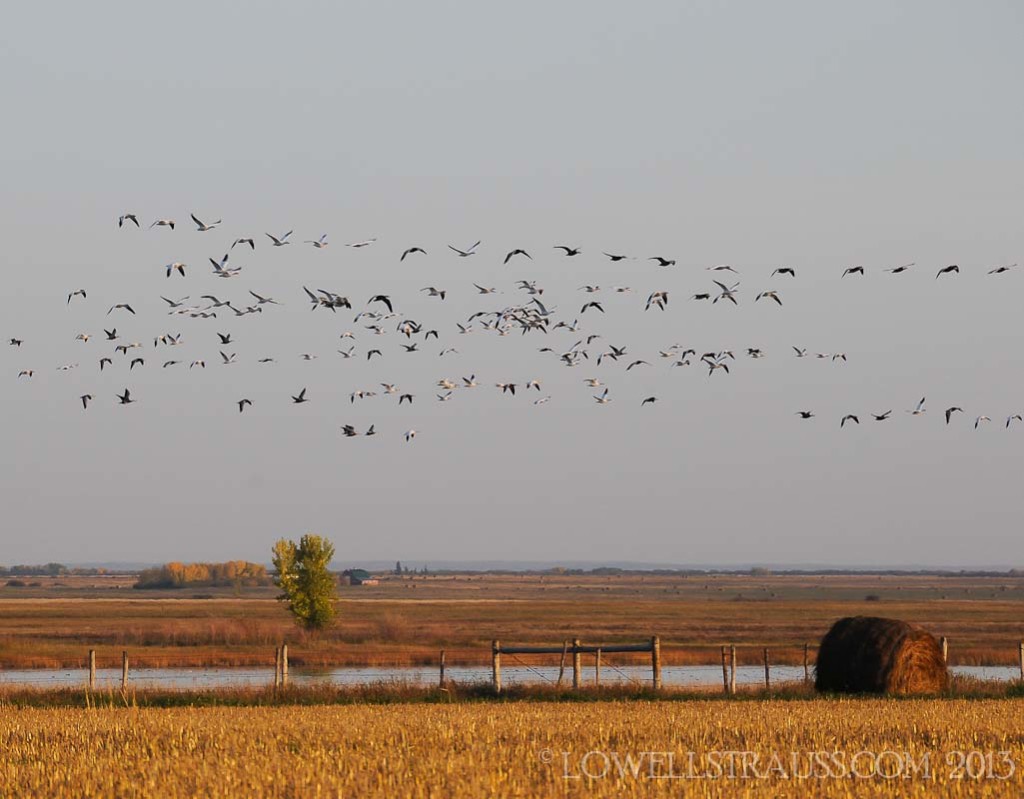 Spring Snow Storm In The Forecast
Spring snow goose season opens April 1 in Saskatchewan. If you're like me, this winter feels like it has lasted far too long. However there is another snow storm on the horizon – of snow geese!
Snow geese breed in the Arctic, on Canada's northern coast and some large islands.  In the spring, they are on their way to their breeding ground, chasing spring weather as it moves north. Snow geese fly and feed in large flocks. This behaviour helps them avoid predators and hunters because there are many eyes watching for danger.
The spring snow goose hunt was started by wildlife managers to reduce the snow goose population. The bag limit in Saskatchewan is 20 birds a day, and a possession limit of 60 birds. But even with special seasons and increased bag limits, the snow goose population continues to grow. This means more opportunities for hunters!
Hunting spring snow geese may require different tactics than hunting in the fall. In the fall birds move from roosting to feeding areas and back twice a day. Understanding their patterns and using a lot of decoys along with recorded snow goose calls can be a very effective way of taking fall snow geese. However, in early spring, geese will be found on open water near their feeding areas. This can be 'sheet' water in a field, or larger sloughs, ponds, and lakes.  I find their movements harder to predict in the spring. Plus, they have been hunted from Texas all the way up the continent, which makes them skittish birds indeed.
One tactic that I have found to be very effective is to try and sneak in between two flocks feeding in adjacent fields. Small groups of birds will fly from one field to join the other flock, often very low, allowing the hunter to ambush them. Another effective method is to pass-shoot birds as they are leaving their roosting areas, especially if they are roosting on the river or a lake.
The basic equipment required to hunt snow geese is a shotgun (12 gauge is most common), and appropriate non-toxic shotshells. Steel shot is the most economical to shoot, and new shotshell technology gives the hunter a wide variety of options to choose from, such as faster steel, tungsten and bismuth.
New hunters need a hunter safety course. In Saskatchewan this program is administered by SAFE (Saskatchewan Association of Firearms Education) http://www.saskhuntered.ca/. There are both an online course and local instructors who will run these safety courses in your area.
In order to hunt spring snow geese (2014) in Saskatchewan, hunters need to have a 2013 Federal Migratory Bird Permit, which is available at any post office. Unlike the fall season, spring hunters do not need a provincial wildlife habitat certificate or provincial game bird license. For more information call your local Ministry of Environment field office.
Spring geese are fat and tasty from feeding on agricultural crops like wheat, corn, sorghum, and rice from September through May before heading to their summer home on the tundra. There are several delicious methods for preparing these birds, including my favourite – snow goose medallions
Resources