Removing slivers or splinters is a common First Aid task for anyone who works outside. The Sliver Gripper™ is a simple yet effective tool for removing everything from cactus spines (from both humans and dogs) to thorns and insect stingers to ticks.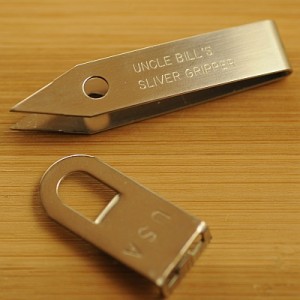 This tool works so well that I have purchased several over the years.  I now have one in my personal First Aid kit, one in the home First Aid kit, and one in my dog's travel bag. The Sliver Gripper™ is made in the U.S.A. of stainless steel and is ground to a fine point. The inside of the tip is lightly cross–scored to aid its grip. It comes with a tip protector to ensure the longevity of this well crafted tool.  Another unique feature is the holes on either side; used to help secure the tweezers firmly in your fingers during use.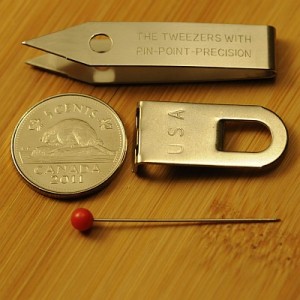 Its uses are not limited to the First Aid kit. It is great for everything from threading needles to fly tying, as well as handling small parts (white gas stove parts, small screws on fishing reels, or springs and pins in firearms come to mind).
The company's slogan is:
"Uncle Bill's Sliver Gripper has never met a splinter it couldn't handle or a Tick that it could not remove."
All this and it is backed by a lifetime guarantee. For the price you can't go wrong!
Highly recommended. Makes a great Christmas stocking stuffer.