Upland Sportsman Shotgun Sling
Every once in a while I stumble across hunting or shooting gear that really makes me sit up and take notice. The Upland Sportsman Shotgun Sling is one of those products. It's designed to carry the weight of a shotgun in the field thereby eliminating arm fatigue. At the same time the shotgun can be swung into action with no interference from the sling. The simplicity of the design is part of the beauty of this product. While it's designed with the upland game hunter in mind (as reflected in the company name), the Upland Sportsman shotgun sling will work well in other hunting or tactical applications where a firearm needs be carried at the ready and deployed quickly.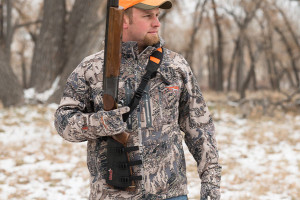 The sling comes in a number of colours and camo patterns and is available in both a left and right hand version.  I ordered a right hand blaze orange version. It arrived withing a few days after talking to the folks at Upland Sportsman. So if you're still looking for a unique gift under $40 for the upland wingshooter on your Christmas list, the Upland Sportsman sling will be a welcome surprise under the tree.
Initial Thoughts
I'll update this post withing a few weeks after I've had a chance to put the Upland Sportsman sling through its paces but until then here are a few of my initial thoughts.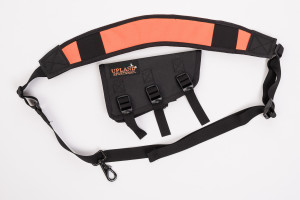 Well Made – All components of the Upland Sportsman sling are made from high quality materials and are neatly finished. The stitching on the sling is perfect and all snaps and buckles are designed for years of hard field use.
Custom Options – Upland Sportsman sling is available in ten different colours and/or camo patterns. It can be ordered in a left or right hand version. Out of the package the sling is a one size fits all type product that can be trimmed to length after custom fitting to your particular firearm. The stock pocket can be ordered in either ballistic nylon or hypalon (what's the difference?)
Easy to Use – Withing minutes of removing the Upland Sportsman sling from its package I was setup and ready to head to the field. The stock pocket was easy to install on my shotgun and the sling itself was quick to adjust to my chest.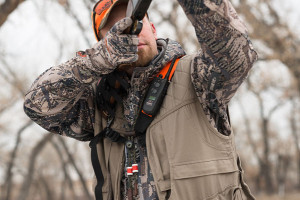 Disclaimer: Confident I'd love their product, the good people at Upland Sportsman sent me a sling to test. I'm not being paid to write this review.