Honey Garlic Sausage Recipe
A mild, tasty sausage, Venison Honey Garlic Sausage is sure to be a favourite family recipe.
This sausage recipe uses 25lbs meat. It can be scaled up or down based on the size of batch you want to make. I've listed the proportions I used for this batch of sausage (60% venison 40% pork). If you like very lean sausage use 100% venison. Adding pork adds fat to the sausage which makes a juicer final product. You can also play around with the type of pork meat you use – lean pork (more meat) vs. fatty pork (more fat). I use lean pork as it does improve the texture of the sausage over straight venison, while not increasing the fat too much.  If you grind your own meat, use a medium to fine blade (grinding once) or a coarse blade (if grinding twice).
Spices can also be adjusted to taste. After mixing the batch of sausage I always fry a small patty to see if I like the amount of seasoning. The flavours will develop more in time but you will get a sense of whether you need to add more of any particular spice. This is part of the beauty of making homemade sausage. You can season the sausage to your own tastes. One word of caution – if an ingredient in a new recipe looks like a lot, start by adding less than the recipe calls for. You can always add more after you have fried a sample, but you cannot remove spice once it is in the meat you can only add more meat to 'dilute the spice'.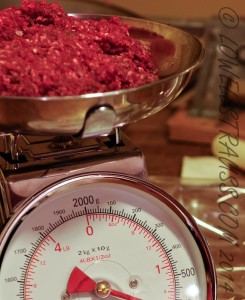 The Recipe – Venison Honey Garlic Sausage
Ground venison – 15lbs
Ground pork (lean) – 10lbs
Salt – 4 Tbsp
Pepper – 4 Tbsp
Honey – 1 ¼ cups
Garlic – 4 cloves (crushed or pureed) [A Stainless – Steel Rasp from Lee Valley Tools makes short work of this task]
Cayenne pepper – 1 tsp
Sage – ¼ tsp
Water (hot) 3 cups
In a bowl dissolve the honey in the hot water. Stir in the salt, pepper, cayenne, sage and garlic. Add to meat mixture. Mix thoroughly.
After the sausage is well mixed, stuff the meat into natural casings (available at your butcher's store) as seen in the photo below.  I sometimes simply treat this like ground meat and pack it in 1lb plastic bags or brown butcher paper and freeze.  Then I can use in it in spaghetti sauces, or make sausage patties for frying or barbequing.  It's versatile, and tasty however I prepare it.  Plus, I have the great satisfaction of knowing that the deer I took this fall has been processed, by me, into a fantastic supper that I'm serving to my family.